Register below for full access to the update. 
Acacia Research: Undervalued Biotech Tentacles
Executive Summary
In this research note, Formidable takes a deep dive into Acacia Research Corporation (NASDAQ: ACTG), which represents an investment opportunity in secondary private equity as well as patent litigation (its historical bailiwick). See below for the company's mission statement, pulled from its website.
"Acacia Research seeks to acquire undervalued businesses with a primary focus on mature technology, life sciences, industrial and certain financial services segments, and pursues opportunities for value creation that leverage Acacia's significant capital resources as well as its expertise in corporate governance and operational restructuring."
Formidable's base case estimates the unrealized value of ACTG'S private equity investments exceeds the company's book value accounting for these investments by approximately $425 million. The body of the whitepaper provides insight into the methodology applied to arrive at the Formidable base case estimated value for each investment. Formidable concludes ACTG currently trades at approximately a 35% discount to the fair value of its assets and anticipates unrealized value could be unlocked by any of the following:
Upcoming Oxford Nanopore IPO
New acquisitions
Additional sell side analyst coverage
Portfolio development of life sciences assets
Additional patent litigation wins
Our base case price target of $12 considers the undervaluation of its investment portfolio as well as improved momentum for its patent litigation business.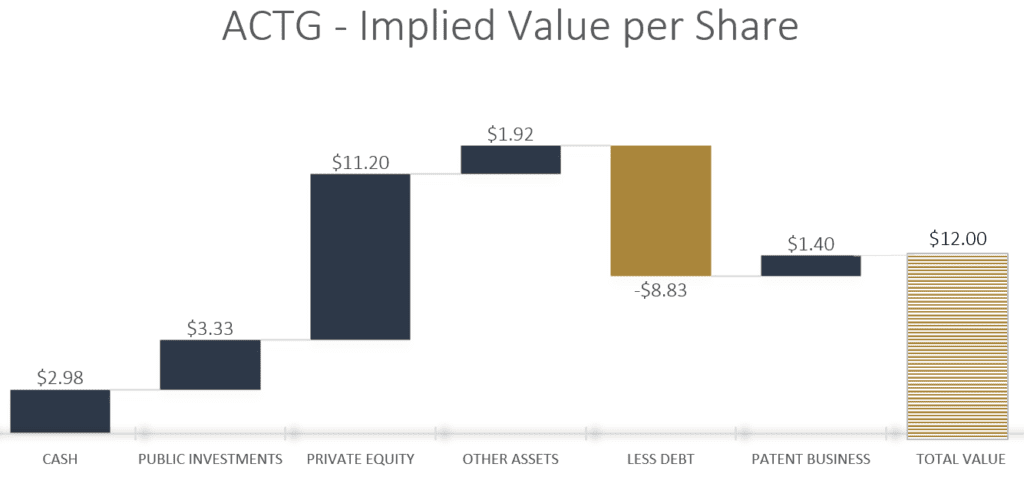 READY TO TALK?
Let us know how we can help and a member of our team will help get you started.